MAKE A DIFFERENCE
Your Electricity Bill will make a difference plus you get a great rate and great YEP service!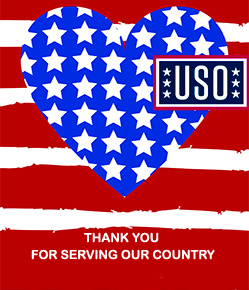 YEP Energy is proud to support service men and women at home and abroad through their partnership with the USO. YEP Energy's "Operation USO Support Our Troops E-Plans" provide residential electricity users in Texas a way to help recognize the dedication and sacrifice of the troops, their families, and the people who work with them every day.
YEP has partnered with the USO to enable you to directly support our troops and their families, both abroad and domestically. For every 1000 kilowatt hours you consume under YEP's Operation USO Support Our Troops AutoPay E-Plan, a contribution of $3 will be made by YEP to the USO's Warrior and Family Care Program. For example, assuming the average homeowner uses 18,000 Kwh per year, this would result in an annual donation of $54 just by powering your home under this program! Show our troops your support by enrolling today!
About the USO
For more than 70 years, the USO lifts the spirits of America's troops and their families. The USO is a non-profit, charitable organization that relies on the generosity of the American people to support its programs and services. The USO has traditionally been known for entertaining and assisting troops throughout the world. But, in recent years, USO programs have broadened to support troops returning home, wounded warriors, families left at home, and the families of fallen soldiers. The USO fulfills its mission through an extensive range of programs at more than 160 locations in 27 countries and at hundreds of events each year. For more information on the USO and its programs, please visit
www.uso.org
.
---